Preparing for IGCSE Physics paper can often be an anxious affair. 
The problem is compounded by the fact that the students persist in trying to prepare it like any other paper. By forcing and cramming as much information into their memories. But Physics is unlike other subjects, you are not tested on your memorization, but on your problem solving skills. 
In fact, there are very few things you need to remember, what would often be more important is how you apply those concepts to the problems. 
1. Consistency 
As in everything that requires practice, consistency is the key. You do not need to do a huge amount, what is more important is that you do a little bit everyday. Put aside a decent amount of time, say 45 minutes, everyday, just for doing Physics problems. Quality is the key, not quantity. 
2. Syllabus Mastery
Next, you need to work on mastering the syllabus. For this, you would need to become familiar with two documents provided by Cambridge Assessment International Education (CAIE) for IGCSE Physics, namely :
A) IGCSE Physics Learner's Guide 
B) IGCSE Physics Syllabus
A) IGCSE Physics Learner's Guide
As the name suggests, this is a pivotal document that every IGCSE exam candidate must be introduced to at the beginning (the earlier, the better) of their IGCSE journey. 
Here is a snapshot of what the document covers.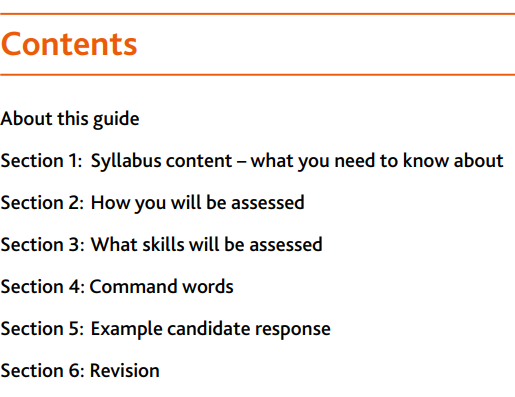 As you can see, reading through this document will give you a great deal of clarity of what is expected of you for IGCSE Physics papers. Sadly, most students are not taught how to use the learner's guide effectively. 
B) IGCSE Physics Syllabus
This document details what you need to know for each chapter. Unlike what your teachers have told you (shockingly and a tad bit pleasantly surprising), you do not have to mug the entire book. 
The syllabus is quite clear on which concepts you need to know.
Here is a good example of CAIE clearly stating that you do not need to know certain things. Most teachers fail to refer to the syllabus and force students to study everything in the textbook, resulting in students getting both stressed and burned out. 
Learning how to use the IGCSE Physics syllabus booklet can have a significant impact on your exam results. 
It is important that you are correctly guided by expert teachers to ensure your success in IGCSE Physics exam papers. Inexperienced, rookie teachers can cause harm to your chances of securing excellent grades. If you are confused and would like to understand where you stand in terms of syllabus mastery, drop us a message to arrange for a subject-specific discovery session. 
3. Know Thy Opponent
Sun Tzu put it aptly when he said, "It is said that if you know your enemies and know yourself, you will not be imperiled in a hundred battles; if you do not know your enemies but do know yourself, you will win one and lose one; if you do not know your enemies nor yourself, you will be imperiled in every single battle".  To conquer IGCSE Physics and secure an A*, you must know in excruciating detail what the examiner requires of you. 
In this section, we will cover everything you need to know your "enemy" and defeat "him" as easily as a child breaks a toothpick. Here is what you must know :
A) Exam format, duration and mark allocation
B) Assessment objectives
C) Command words
D) Marking scheme
E) Mathematical skills
F) Past year papers
G) Examiner reports
As you can see, there are quite a bit of things you need to know inside out before you stand a fair chance of conquering the examiners' fort. 
A) Exam Format
It goes without saying a candidate must be extremely familiar with the exam format for IGCSE Physics.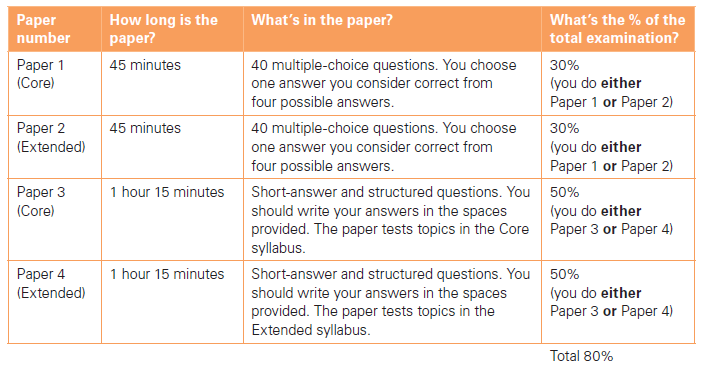 It should be clear to you that each paper is given a different weight and it should be obvious that to obtain an A*, you cannot afford to dismiss any of the papers. Even if you were to score full marks on papers 4 and 6, but you only scored half the marks in paper 1, it would not gain you that A* grade.
B) Assessment Objectives
You should also be aware of what CAIE is testing you on. And it should be noted that only half the marks for A01 are for simple memorization of facts. And that the theory paper tests mainly on A01 and A02, whereas A03 is the hallmark of the practical paper. 
If your teacher has never taught you these techniques and you need help before your exams, then reach out to us for our IGCSE Physics online tuition classes. 
C. Command Words
Most teachers (and students) spend all their time mastering the syllabus and leave none to master the command words used by the IGCSE Physics examiner. They do so at their peril. 
The command words are how the examiner communicates with the candidate on what he/she expects out of an answer. For example,  the command word, "Describe" entails that you talk about the main points of a phenomena and what is happening. It is a description of the process as well as making an observation. In contrast, the command word "Explain" only requires you to make the relationship between things evident by providing evidence and using physical concepts you have studied. There are 18 command words for IGCSE Physics. Each of them requires a specific action from the candidate. 
For example, it might not be the most efficient use of time to write a whole paragraph on a question that tells you to just state the answer. You might think that this is obvious but according to the marking scheme and the IGCSE Physics examiner report, this is where most mistakes are made.
D) Marking Scheme
You must learn to see how the marking scheme is laid out so you can understand how the examiner will be marking your paper. 
Let's look at a simple example from a past year question. The question below carries 4 marks. 
Here is how the examiner chose to award the 4 marks. 

To understand the marking scheme, you must first understand the difference between C marks and A marks. A mark is awarded for your final numerical answer and with the correct units and value, getting this correct means you would have gained all 4 marks, EVEN if no working was shown. If however, you did not obtain the correct numerical value, you can still be awarded the C marks where appropriate. For example, you have stated the right formula but you did not substitute in the right numbers. Your final numerical answer may be wrong but you would still be awarded 1 C mark for writing down the correct formula. 
This is an important lesson to SHOW ALL YOUR WORKING.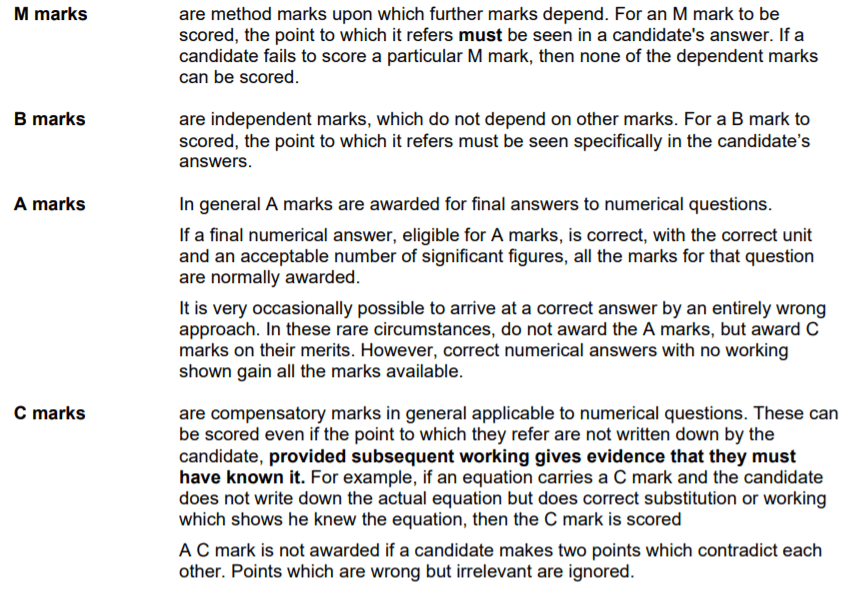 Of course, before you could peek into the marking scheme you must first practice the past year questions. 
E) Mathematical Skills
Physics and Mathematics are closely linked. It is not possible to do Physics without knowing how to do Mathematics. It is important you know what mathematical skills are required of you to do the Physics paper. The learner's guide gives a detailed list of the techniques that you should know. Below is an example of some of the mathematical skills you will need to know.
Any teacher worth their salt will tell you this: Practice your past year questions. However, most fail to add another important part: Do not depend on it or count on spotting trends. The IGCSE Physics examiner is known to throw a surprise every now and then, leaving candidates shocked if all you've done is mug the past year papers. Use the past year papers as a guide on what to expect but continue to sharpen your analytical skills and "outside the box" thought process if you wish to face no hiccups during the IGCSE Physics exam day. 
It is also equally important that you DO NOT audit your answers while practicing them. This leads to a false sense of confidence which can ruin your exam results. It is best for you to time yourself while doing the papers and mark them objectively once you are done.
If you need assistance in preparing for your IGCSE Physics papers, feel free to reach out to us for our online tuition classes.
G) Examiner Report
Lastly, if you have the time, it would be highly beneficial to read a few examiner reports. The reports will give you an idea of where most mistakes are made and what are the common pitfalls among candidates. Having a clear idea of where others have succumbed before will help you avoid the same mistake. As Ken Schramm puts it, "A smart person learns from his mistakes, but a truly wise person learns from the mistakes of others." You have the chance to be a truly wise person so be one. 
Besides being wise, the report will provide you insight into what the examiner is expecting from each question making you truly read to take on IGCSE Physics exam papers.
By mastering these three elements, namely your mindset, the syllabus and the exam requirements, you set yourself up for success from day one. You can also check out our detailed guide for :
At Pasxcel, we've coached each and every one of the students to become a success story. If you need more help in your IGCSE, please drop us a message for online tuition classes or our IGCSE Ascension program.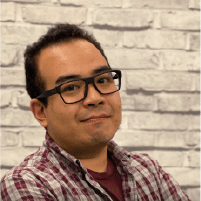 Maths, Add. Maths, Physics, Python Coding & World History
Masters in Theoretical Physics
Teacher Rasyad studied Theoretical Physics and for a while he was working as a theoretical physicist. His area of research was Theoretical Nuclear Astrophysics and Particle Physics. His passion for teaching Mathematics and Physics led him to become a teacher with Pasxcel where he aims to instil in his students the joy of finding things out. His classes are usually very broad ranging and engaging. And rather than just explaining the concepts, he ties it in with the students' experiences, the mundane then becomes the beautiful. His classes tend to have a habit of going into far off regions where he takes his students on a tour of the universe, from the very big to the very small, stretching the limits of their imaginations.